The Historic Buildings of Boondooma Station
Some of the original structures, built or used by the early settlers, are preserved for you to look through.
Most were constructed of wooden slabs – iron bark or cypress – and originally had shingle roofs. However the station's Store was built of local stone to more securely protect the supplies for six months or more. All our historic buildings are open for inspection during the guided tour.
Boondooma Homestead is one of the few examples of early pioneer architecture available to the public in the Burnett region.
It incorporates a combination of vertical and horizontal ironbark timbers. A sawing pit located to the North West was used in the construction of Boondooma Homestead.
It was completed in 1855, the wallpaper was ordered, and Alex Lawson and his new bride moved in. The present roof of corrugated iron was put over the original wooden shingles in 1870.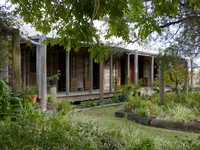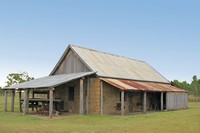 The Stone Store was built to store and dispense supplies to the Station workers, and later to local settlers until 1922.
Constructed of roughly coursed random stone, it was built by German stonemason Wilhelm Brill, between 1854 and 1858.
It originally had a shingle roof which was replaced by corrugated iron in the 1870s. Believed to be one of Australia's earliest structures built to metric measurements, it is an important relic from early European settlement.
The Post Office is thought to have been constructed about 1850, with extensions added in the 1950s,
This structure is still relatively intact and includes the letter-posting slot through the door.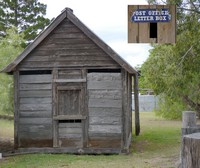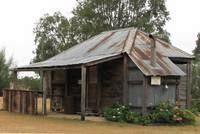 Brownie's Hut is believed to be one of the original shepherd's huts from the ridge behind the Store, as shown on the 1861 survey and also in a pre-1918 photo.
It was dismantled and removed in 1918, to be rebuilt on 'Glentullock'. The Somerset family donated it to the complex in 2002. It was relocated by the committee, thereby bringing it home.
The Cool Shed: The hotter the sun shines on the roof of the cool shed, the more cool air is draw inwards and upwards from under the walls, thereby keeping the interior several degrees cooler than the outside temperature.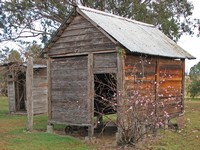 These buildings are less than ten years old.
The DPI Hut – In the 'Year of the Outback' 2002 the nearby Boondooma Dip was chosen to represent the DPI's long fight against the cattle tick. The 'Stockies' Stump' (a post from the original yards) was erected here, along with an information hut.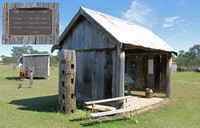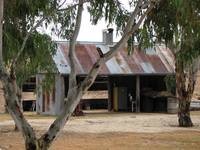 The Cookout is only a few years old and provides shelter for the preparation and cooking of our campoven meals.
Toilets – Even our toilets are housed in keeping with the Heritage look. Inside, they are right up to date, and include one suitable for disabled visitors.